Welcome to The Arktoons Roundup, Bounding Into Comics' weekly look at some of the best new and classic webtoons that Arkhaven Comics has to offer on Arktoons.com.This week, we'll be looking in on a number of series on offer to us from Chuck "The Legend" Dixon.
Chuck Dixon Presents Adventure: Charlie Chan – See No Evil
I'm highlighting this series in honor of the release of Marvel's Shang-Chi, as there's actually a surprising connection between the two.
When Shang Chi was first published in the 1970s, his father wasn't originally named The Mandarin, but was literally the pulp villain Fu Manchu, who used to be one of the biggest names in villainy, starring in countless books, movies, and yes, comics. Though Marvel had licensed the character from the Sax Rohmer estate, when his representatives wouldn't renew said contract, the House of Ideas turned the character into The Mandarian.
He was, however, so universally unpopular in China that the US government demanded that Hollywood cease production of Fu Manchu films during World War II in order to avoid offending their Eastern allies.
In 1926 American novelist Earl Derr Biggers decided to create an antithesis to Fu Manchu. The result was Charlie Chan, a humble-but-brilliant police detective and devoted family man who was absolutely dedicated to the cause of justice and relentlessly pursuing evil in all its forms.
Charlie Chan was also a Trickster Hero, an archetype I covered on Arkhaven Comics earlier this year and described as "the last hope for those who feel crushed by the wheel of fate because he breaks that wheel", and – taking a quote from Roger Zelazny's seminmal sci-fi fantasy novel, Lord of Light – as the type of hero who will "take up the gauntlet of heaven and oppose the Order of Life and the gods who ordained it so."
Today, Chan has been banished from pop culture as a racist stereotype, but in his day, a Chinese hero who did battle primarily with his mind was pretty forward-thinking stuff. Viewed through a modern lens and given his powerful intellect, you can't help but feel that Chan's "flied lice" pigeon was an act he put on for his white compatriots.
So how did the Chinese feel about Chan?
Well, when actor Werner Oland – who portrayed the Chinese detective across over four dozen films starting in 1926 – visited Shanghai in the 1930s, he got a hero's welcome from the Chinese.
In fact, Chan films were so popular in China that an industry of Shanghai-produced, Charlie Chan knock-off films thrived throughout the decade. So much so that Xu Xinyuan, the Chinese actor who portrayed Chan in said films, even took painstaking care to copy Oland's dress, apperance, and mannerisms.
Clearly, Chan's character was so iconic that it had been understood across the world that there should only be one way to portray the hero.
Alt Hero Q by Chuck Dixon
Most people think that all of their problems will be over when they die – Roland Dane certainly thought so.
When he was "killed" in Lima Peru, everyone knew. Thankfully, this gave him a period of breathing space, allowing him some time to relax and get things done.
Sadly, for Roland, the all-seeing Janus facial recognition system hadn't been updated with regards to his recent passing – and thus is still looking for him.
This creates a real problem for former Agent Dane.
You see, when you are officially alive, there are fairly intrusive and inconvenient ramifications for any group or individual that carries out a successful murder against your person – hardly insurmountable, but still a problem.
However, if you are officially dead, all you have to do is get rid of the body.
On the other hand, being "dead" is pretty liberating in and of itself: You don't pay income tax, Jehovah's Witnesses stop knocking on your door, and you can't be investigated as an official suspect…
For anything.
GO Monster Go by Chuck Dixon
Welcome back to Caliente Springs, where every conspiracy theory you ever heard of can be found! If there is a conspiracy theory that you know of and you haven't yet found it in this town, then you just haven't looked hard enough.
But here is the thing about big government conspiracies: Nobody ever looks at how hard it is on the lives of the men and women who make them happen.
Think about it. We are talking about 90-hour work weeks, dinners that are stone cold when you finally get home at 11:00 pm, and a job where there's no such thing as a Saturday off.
Aside from these ironically mundane occurrances, there is always – and I do mean always – some crusading reporter, FBI Agent, or your handsome, part-time community college professor assistant who can't get ahead because he's too idealistic, that won't listen to your earnest and heartfelt please to mind their own business.
And now, you have to make a godawful trip into the middle of the Mojave at 2:30 am, with that frantic pounding sound from the trunk giving you a headache.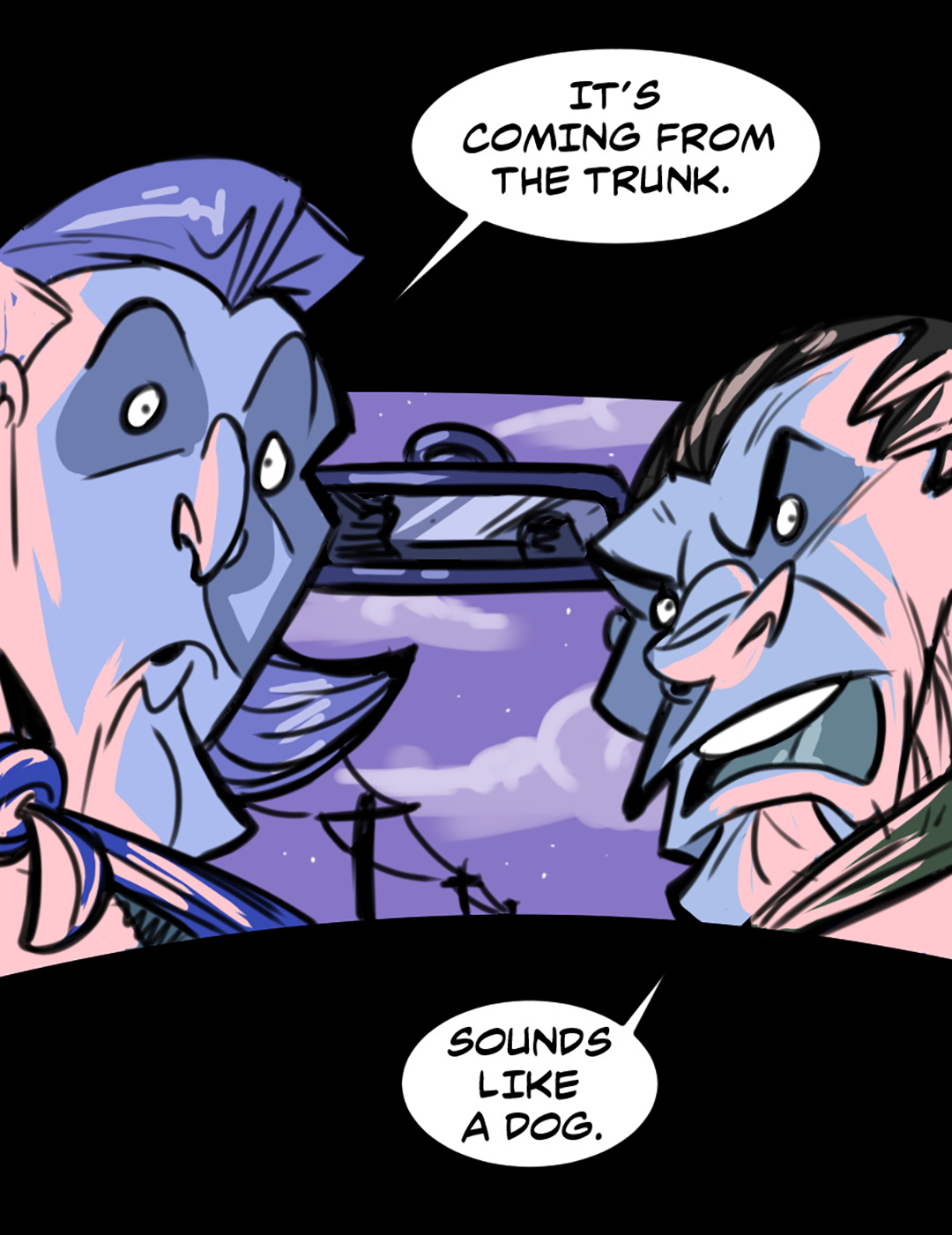 In theory, the retirement package is good – a seat on the board of a military-industrial complex company, membership in an exclusive country club, and a cushy GS-18 pension – but in practice, you know too much.
Thus, your retirement is going to consist of your own trip into the Mojave at 2:30 am (courtesy of your ambitious assistant), or worse: waking up in that weird village on the island where everyone talks in non-sequitur double-entendre and a giant beachball tries to kill you if you go for a swim.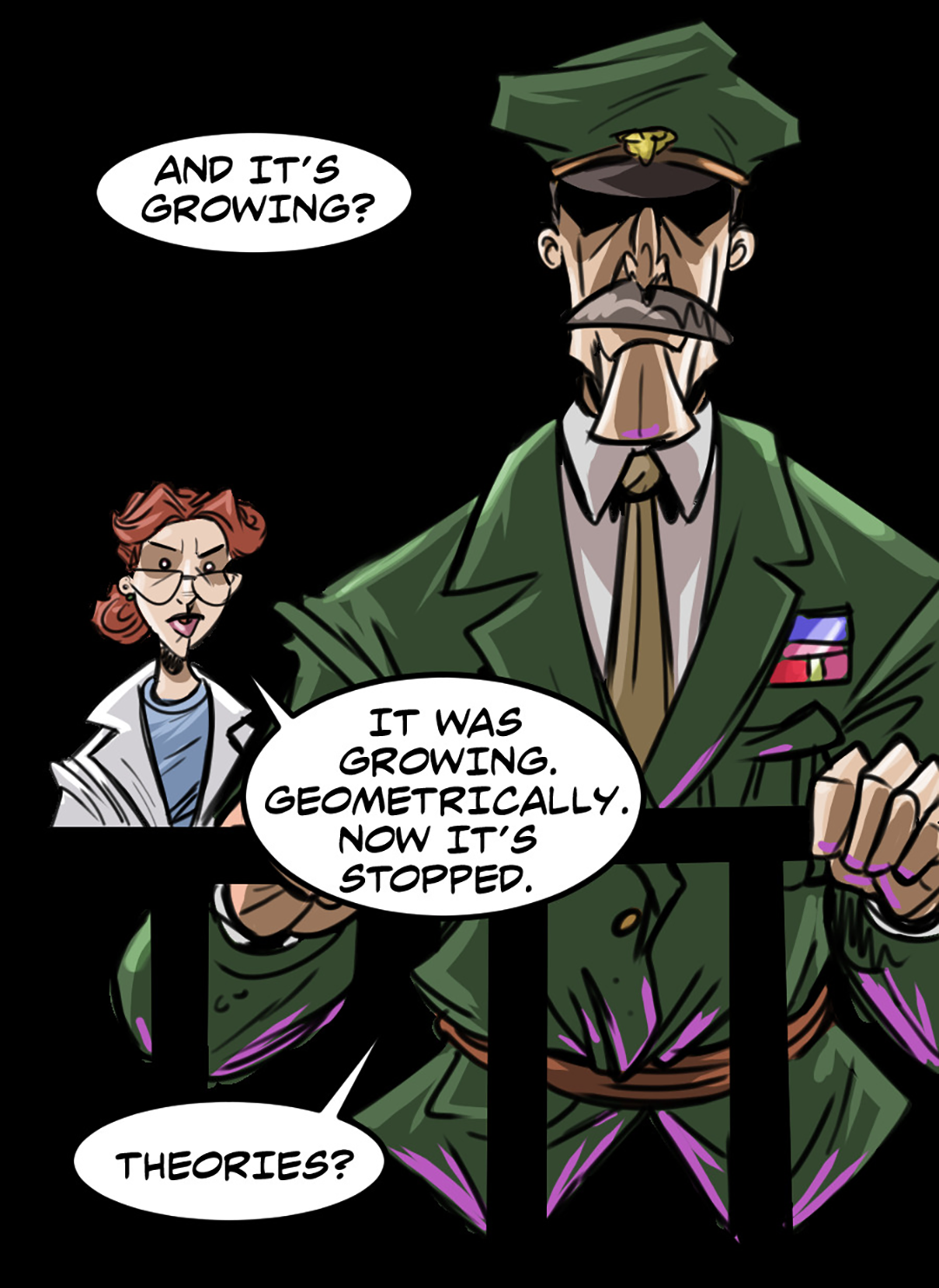 But the real cost of your job will be family relationships, including a wife you are never there for and a daughter who feels like she was napping on your lap one day and dating an impossibly unsuitable boy named "Ace" the next.
(I completely missed the Air Boy poster the first time through this)
It could be worse, of course. She could be dating your ambitious assistant.
That's it for this week's Arktoon's round-up.
If you would like to see your comic book on Arktoons please send your submission to: [email protected].
Arktoons' motto is that great stories belong to the world, so if you would like to support the website, please consider buying a subscription. While Arkhaven titles on Arktoons will forever remain free to all, independent creators will soon have the option of being directly supported by their patrons.
See you next week!