All Elite Wrestling star Phil "CM Punk" Brooks recently decided to make a political statement in the state of Texas claiming that murdering children in the womb is a human right. It's the second time in 6 months that Punk has supported murder.
On last night's episode of "AEW Dynamite" live in Houston, Texas, the 43 year old AEW wrestling star CM Punk wore a shirt that says "Abortion Rights Are Human Rights" as he walked out to do commentary during the match between AEW World Champion Hangman Adam Page and Konosuke Takeshita.
Punk was complimented on air by AEW commentator Excalibur for wearing the shirt.
RELATED: Former WWE/NXT Wrestler Nash Carter Reveals In Apology His Wife Held Onto Photo That Got Him Fired
The company who made the shirt for Punk tweeted, "We were honored when CM Punk asked if he could wear one of our new shirts at AEW Dynamite in Houston. Truly an amazing guy. "
"The shirt is raising money for our work with Planned Parenthood in the Midwest and local access funds," they added.
For those wondering, Punk supporting abortion is not part of a pro wrestling angle, and this is not the first time he has made his stance on abortion clear.
Last December in Dallas, Punk wore a shirt that states "Get your own, then tell it what to do" referring to a women's uterus and the act of terminating a child via abortion on the TBS program.
RELATED: All Elite Wrestling Star CM Punk Slams Pro-Life Activists As "Elite, Rich, White, Terrorist Religious Fascists"
Punk has openly protested the state of Texas's "Heartbeat Act" which bans abortion after the detection of embryonic or fetal cardiac activity, which normally occurs after about six weeks of pregnancy.
It was only two weeks ago that CM Punk took to Instagram to slam those supporting the repeal of Roe v Wade ruling as "Elite, Rich, White, Terrorist Religious Fascists."
In an Instagram Story post, Punk stated "For my wife, my sisters, for mothers and women who are helplessly watching their rights over their own bodies stripped away by elite, rich, white, terrorist religious fascists. Being human means I cry when injustices masquerade as religious rights. HER BODY, HER CHOICE."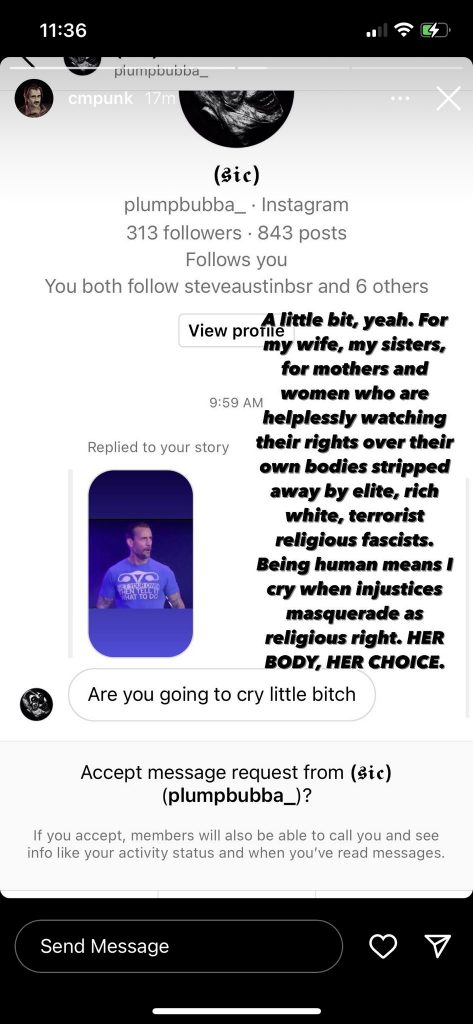 AEW is no stranger to politically grandstanding for progressive causes on their TV shows. Current AEW world champion Adam Page earlier this year protested the state of Florida's Parental Rights in Education bill which banned the teaching of sexuality and transgenderism to children between kindergarten through third grade by wearing a rainbow-colored vest during a wrestling match in the city of Orlando, Florida.
RELATED: Former WWE Superstar Val Venis Kicked Off Twitter With No Explanation
AEW has also featured numerous LGBTQ wrestlers in their program including featuring a transgender woman as their Women's champion.
AEW is currently slated to stay on TBS television until the end of 2023 but with the recent wave of cancellations and firings as a result of WarnerMedia's merger with Discovery Inc, a future deal to stay on the network is currently uncertain.
Last month, it was announced that TNT and TBS are pausing their scripted game under new parent company Warner Bros. Discovery in which CEO David Zaslav has promised he will find $3 billion in cost savings across the new company in the post-merger era.
Three weeks after this announcement, Brett Weitz was fired as the general manager of TBS, TNT, and truTV. Weitz was considered a major ally to AEW and one of the key people who helped bring the pro wrestling company on the network in the first place.
CM Punk is a well-known progressive activist with a hardcore following of pro wrestling fans that don't care about the backlash of taking a political stance on a show that averages roughly 900k weekly viewers on TBS but is top 5 in the 18-49 demographic on Wednesday nights.
What are your thoughts on Punk and AEW supporting abortion? What do you think about pro wrestling's descent into progressive politics?
NEXT: WarnerMedia Reportedly Blocking AEW From Signing Top Independent Tag Team Wrestlers Due To Old Anti-Gay Marriage Remarks